85% of people who live in the Bay Area have never been out on the Bay.  We're trying to change that one kid at a time. It's very satisfying to watch new crew become experienced hands through their hard work and practice.
-Mark Caplin, Pegasus Captain
BOB KINGSTON
Senior Captain and Board Member
Bob began his maritime career in Alaska at the age of 18, living and working on commercial fishing boats, which he would continue to do on and off for a total of 11 years. He fell in love with sailing while living in South America, where he began crewing on a gaff rigged ketch.  Bob eventually came back to the States and bought his own heavy displacement sailboat, which he has lived on, maintained and sailed for over 10 years. 
He has been in charge of upgrades and maintenance on Pegasus for several years now, which has given him an intimate knowledge of the vessel.  Bob has worked with kids in different capacities over the years, teaching both on and off the water, and he believes wholeheartedly in our mission of exposing kids to the wonders of the marine experience.  Bob holds a 100 ton Coast Guard Master's license.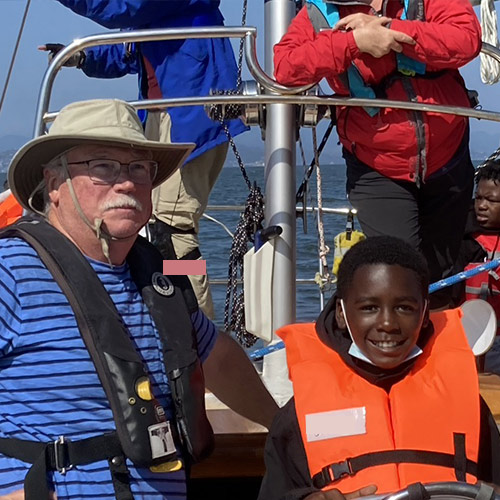 PAT REZZA
Captain
Captain Pat Rezza grew up on the North Shore of Boston and began sailing in high school. Pat has a life-long love of the sea and maritime history and has spent many a day roaming New England boatyards, and sailing and racing its waters. Pat is an American Sailing Association (ASA) certified sailing instructor teaching bareboat cruising, celestial and coastal navigation, and marine weather. Pat is a 25-ton USCG licensed captain. Pat has sailed nearly 10,000 nm including crossing the Atlantic, the US West coast from Washington to Mexico, coastal New England, and the Caribbean.
After 37 years as an engineering and operations executive developing renewable energy technologies, he retired and discovered the Pegasus Project, where he worked up from crew member to mate, and then captain. "I thoroughly enjoy volunteering on Pegasus, sharing my love for the sea with so many young adults and witnessing their joy and excitement discovering San Francisco Bay".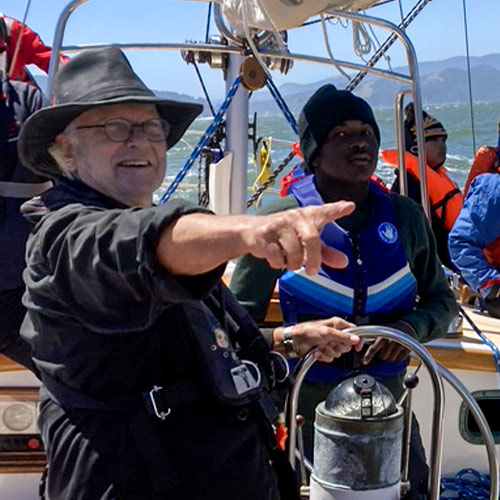 PAUL MARBURY
Captain and Board Member
Paul began sailing at age 6 on his family's 18' wood sloop. He progressed to a 15' Snipe which he was able to sail by himself & make as many mistakes as he could. In high school he began teaching sailing to younger kids and racing small boats at the local yacht club.  After moving to San Francisco, he started to sail and race keel boats from 25' to 50' and to crew on coastal voyages and on a delivery trip from Hawaii to Guam and another from England to Gibraltar.
He found the Pegasus Project shortly after the program was founded and has been a volunteer crew member ever since.  "There's nothing else that gives me as much peace and pleasure as being aboard a well trimmed boat, even on the windiest summer San Francisco afternoon. The joy of sharing that with my experienced crew and with youth who join us, most of whom have never been out on the bay, is the reason I've continued to volunteer for the last 30 years."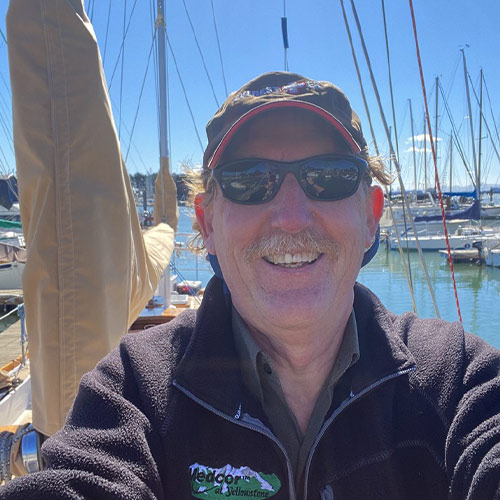 MARK CAPLIN
Captain and Board Member
Mark is a Pegasus captain and our safety officer.  Mark has been sailing with Pegasus since its inception. He started as a crewmember, went to OCSC to be ASA and US Sailing certified through bareboat skipper courses as well as classes at Cal maritime and then went through the training and certifications as a Mate and as a Captain. Mark has served as the Training Officer and as a Training Captain. He holds a 50 ton USCG license.
With his experience as a paramedic and Physician Assistant, he has taught first-aid and CPR classes to the crew as well as training the crew in the treatment of hypothermia in order to maintain a high level of safety for the vessel, crew and passengers. He  works as a Ship's Medical Officer aboard the Training Ship Golden Bear. Mark is currently serving all over the United States and California as a member of both federal and state disaster teams and COVID safety officer.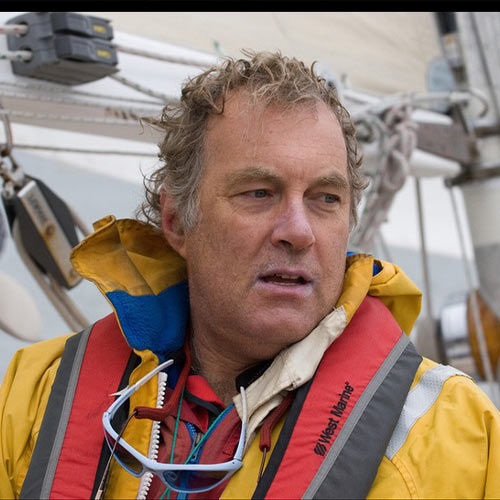 Peter Hayes
Founder, Board Member, and Captain
Peter is a Pegasus captain and co-founder with Lyuba Zarsky of the Nautilus Institute, who defined the Pegasus vision of "No Child Left Ashore".  Together, they established the Pegasus Project in 1994. He grew up sailing in Australia and believes that sailing on the ocean has a transformational impact on young people. 
"I love introducing seasoned sailors and novices alike to Pegasus and to the ocean. I always come back amazed at what we learned out in the Bay while out on Pegasus. I grew up sailing in Bass Strait, the roughest area of ocean around Australia. Later, I sailed in the Mediterranean, Indian Ocean, and finally, the West Coast. I am most at home at sea, whether in the Bay or offshore. I have captained, crewed and volunteered aboard Pegasus with youth, passengers and volunteers since 1994.  I know the vessel intimately and how well suited she is to East Bay sailing conditions." 
In 2022, Peter recieved the Condon Award, Pacific Inter-Club Yacht Association (SF Bay Area) for "distinguished and selfless promotion of sailing, particularly for young people."
Photo credit: Louis Benainous