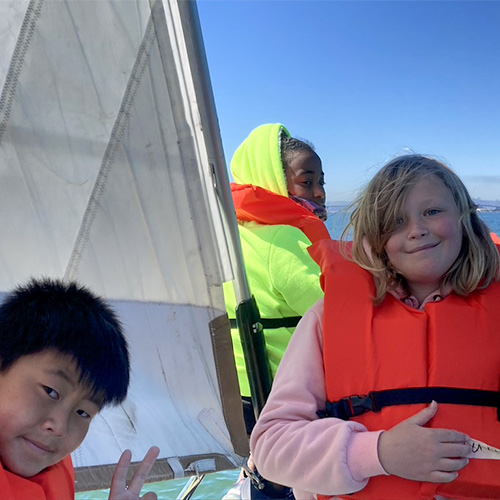 School Class Voyages
(Weekdays)
School voyages are designed to serve a full public or private school class (up to 26 students), from 4th through 12th grades.  Classes will be split into two groups by class instructor and we will conduct two back-to-back sails in order to get the entire class out on the water in one day (14 passengers maximum per sail, including instructor). 
The first group sails aboard Pegasus while the second group has lunch and plays or engages in activities across the street in Shorebird Park.  Instructors will need at least one floating teacher or parent volunteer to be with park group while the other group sails.
The groups switch around 11:30, with the second group sailing while the first has lunch and park time.  Classes typically arrive ready to sail at 9:30 am on a school day and both sails are concluded by 1:30 pm, allowing time for transportation back to school. 
Classes will experience the magic of Pegasus under sail, with students able to move around the vessel. Time allowing, students will have the opportunity to steer the vessel, along with a tour below decks upon conclusion of the sail.  The purpose of these voyages is to provide a marine educational experience that kids will remember for a lifetime!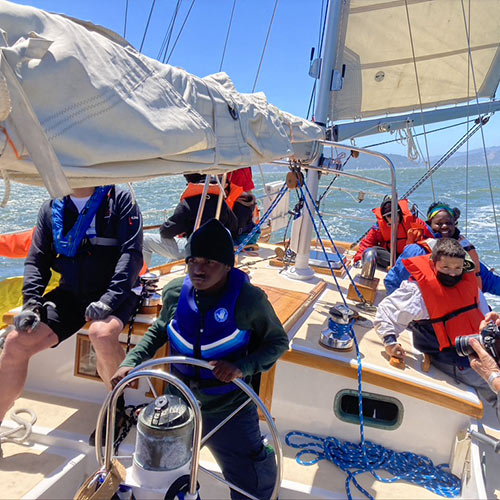 Smaller Group Voyages
(Weekends or Weekdays)
Smaller group voyages are more flexible and allow for a longer individual sail.  These sails are best suited for smaller groups (maximum of 14 passengers) and can accommodate  a wide range of groups, ages and interests .  Passengers typically arrive at 10 am on Saturday or Sunday morning, and the voyage generally concludes around 2-2:30 pm. 
Passengers bring a packed lunch to eat while sailing.  Depending on weather conditions and time, passengers will tour the Bay aboard Pegasus under sail, with the opportunity to move about and steer the vessel, along with a below decks tour once the boat is back at the dock. 
These voyages focus on marine education, sailing and relaxation.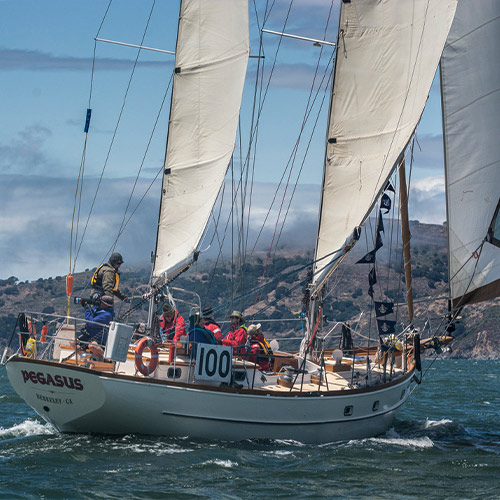 Veteran Voyages
Veteran Voyages are designed to serve as a relaxing and therapeutic time on the water for Armed Service veterans.  These sails typically take place on a weekend day, with passengers arriving at 10 am and concluding their voyage around 2 pm, although weekday Veteran Voyages can be arranged as well.  
Passengers bring a packed lunch to eat on the water.  Veterans will have the opportunity to move around and steer the vessel while touring the Bay under sail.  These voyages are all about creating a relaxing, stress free experience for veterans, especially those who suffer from PTSD.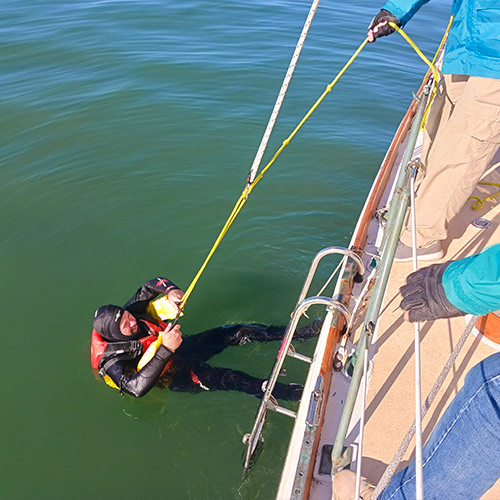 Crew Training Voyages
Crew Training Voyages take place on a regular basis throughout the year and are designed to give our volunteer crew the tools and experience necessary to carry out our mission in safety. 
Crew Training sails may take place on weekdays or weekends and typically last several hours, from prepping the boat, dockside training, training under sail and the highly important practice of conducting a "debrief" circle discussion upon conclusion.  We also conduct specific crew trainings in the Spring in preparation for participating in the annual Master Mariners Regatta.
I will never forget the beautiful bay that looked like a thousand diamonds, while the warm sun shone down on me with my legs dangling off of the bowsprit in the cool, gentle breeze.
-Aria, 5th grade student at Rosa Parks Elementary